FAQ
How much I will earn?
Our affiliate program has a better conversions ratio than any other online dating site. The amount of money you earn depends on you, the more traffic you send, the more money you will make.
Who can I ask if I have more questions?
If you have any other questions, please click here to contact us.
Does it cost anything to become an affiliate?
No. Becoming an affiliate is absolutely free of charge.
QUOCK TOUR. What is a Co-Branding partner program?
What's a co-branded partnership program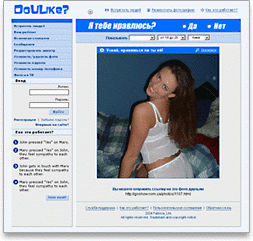 Your website and your dating website.
Co-branding simply means offering our dating service to your visitors in such a way that it appears to be part of your website. You just add a text link in your navigation bar or a banner on your homepage and link it to a co-branding system which we will design for you. The co-branding system will customize our website content to make it look and feel like part of your site.
The new service on your site will help you to keep and expand the audience of your sites
How does "Do u like me?" work
Submit your picture
It's the perfect way to meet new people and find out who likes your photo.
Browse
Browse people in the "Meet new people" section, click "Yes" if you like them.Otherwise click "No".
Find out who likes you as well
People for whom you vote "Yes" will see your photo next time they login. And if any of them vote "Yes" for your photo they will automatically appear in your "Mutual Sympathy" list.
If you see the title "This user already voted "Yes" on your photo" above the photo...I think you understand what it means. Click "Yes" if you like that person and he/she will appear in your "Mutual Sympathy" list.
Mutual Sympathy List
Go to the "Mutual Sympathy" section.And if you find someone there you can contact them. Click button "Send e-mail" or "Send note".
Meet your Mutual Sympathy
Have fun! Send emails and meet up with your Mutual Sympathies. They will respond to you because they like you as well.
Upload your photo and find out who likes you.
Hosting, technical support, user profile moderation
You shouldn't worry about the technical aspect of the question and ordinary day-to-day stuff.
We take care of:

Hosting and maintaining of your site

Supplying you with a user profile database

Personalizing the design of your "Do u like me?" section or site

Providing customer support for users and clients

Payment processing

User profile moderation
Make money from advertisement and commission
You get 50% commission from all payments made by users who registered on your dating site or section.
You may place your alternative advertisement wherever you want on the site and earn money from the ads
Get started in 48 hours (Quick start)
Becoming a "Do u like me?" co-branded site is simple. Just fill in the application and
Creating your co-brand system is a simple process and is completed within a few minutes. With a few simple HTML and/or image submissions you can change the site header, footer and left-hand sidebar of the InterracialMatch.com site to look like yours.
You can also use advanced CSS styles OR we can create a personalized design for your site. This process takes no more than 48 hours.